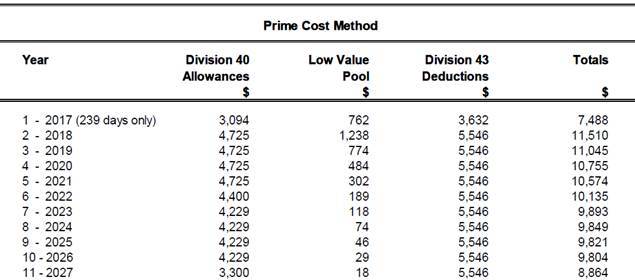 Capitol Apartments
The NBtax team had the privilege of reviewing the Capitol Apartment complex to determine the depreciation allowances available for investors. This striking 20 storey mixed use building located in the heart of Bondi Junction Sydney, compromises 100 apartments and a ground floor retail arcade completed in 2016.
Based on a typical one bedroom, one bathroom apartment with white goods inclusions, the approximate depreciation allowances are listed in the table for Building (Division 43) and Plant & Equipment Items (Division 40) would apply.
Please note, changes to the property tax legislation means that properties purchased after the 9 May 2017 are eligible for depreciation allowances on the Building only. Any new white goods or other non-fixed items purchased to improve the value of the property would be eligible to be included as depreciation deductions under Plant & Equipment Items (Division 40).
If you have purchased an investment property, NBtax is able to offer quality and compliant depreciation schedules to assist with your cash flow and minimise income tax.