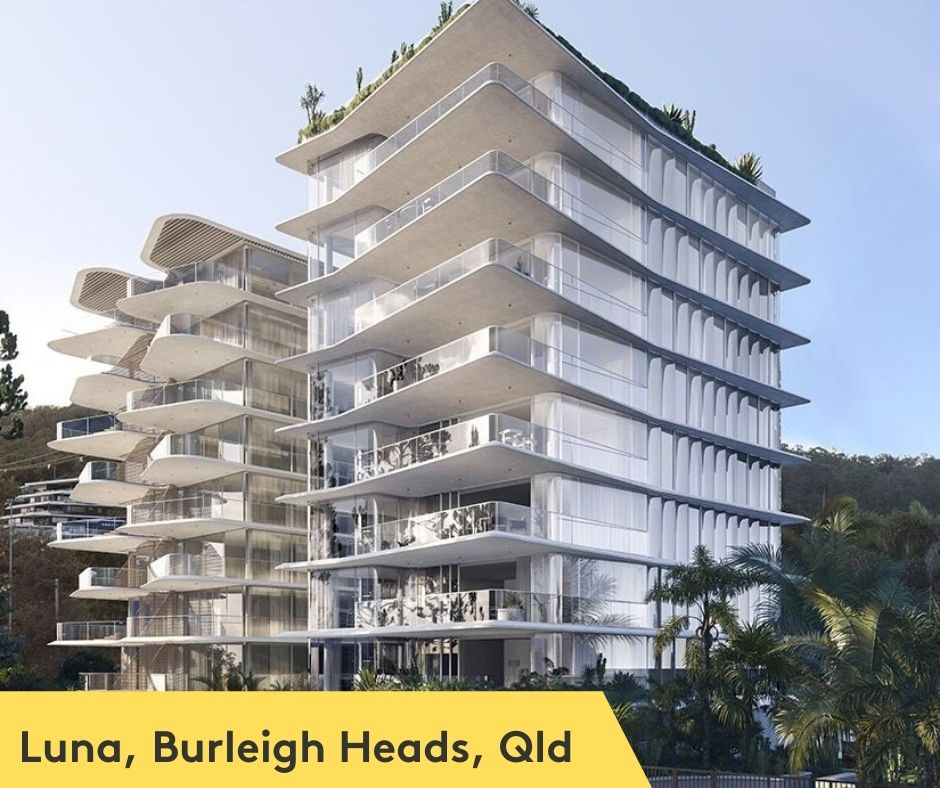 Opulent Luna Apartments Delivers High Value Depreciation Deductions
Burleigh Heads is synonymous with sun, beach, and relaxed living on the Queensland Gold Coast. For decades, it has long been a mecca for tourists and property developers. With a population of approximately 9,340, last recorded on 30 June 2021, the decline in growth is largely attributed to the pandemic. As numbers slowly begin to increase, so too do property investors. The region is set to capitalise on a wave of apartments planned along the legendary coastal line.
Among the extensive list of new residential developments is the stunning eight level Luna Apartments. The complex faces north to embrace inspirational vistas of golden sands, blue seas, lush green vegetation, and city lights; in short, a cacophony of sounds and sights to deafen the senses.
Our NBtax team had the pleasure of visiting the Luna Residences and conducting a thorough inspection of the spacious penthouse apartment owned by our investor client.
Built in 2021 by Forme Property Developers, the Luna residences of 261m2 comprise three bedrooms, each with ensuites, a study, dry bar, custom kitchen with butler's pantry, plus an integrated barbecue kitchen, all contained within 14m of floor-to-ceiling glass.
The resort style amenities draw on the relaxed yet refined setting of oceanfront living to include a pool, wet-edge sun lounge and state-of-the-art gymnasiums immersed with rich plantings and flowing vines.
Depreciation Schedule Results
In calculating the annual depreciation deductions available to be claimed during the first full financial year by our clients, our experienced NBtax team identified $144,364 in eligible depreciation assets for both the Building, and Plant & Equipment items (Divisions 43 & 40). These included our client's share of depreciation on common assets such as the lift, sauna and spa equipment, swimming pool filters and equipment, and gym equipment.
We also calculated a total of $1,888,000 in deductions available for depreciation allowances by our clients over the next forty years.
Other high quality assets assessed as eligible for depreciation allowances included:
AMP and music equipment
Air conditioning
Carpets, linoleum, floating timber floor coverings
Hot water systems
Kitchen equipment (dishwasher, exhaust and rangehoods, ovens, refrigerators, stove, water filters)
Vehicle control equipment
Curtain and drapes
Ventilation fans
These are significant deductions for our clients that will greatly help to offset rental income, manage cash flow, and reduce their taxes.
To order your depreciation schedule contact our NBtax team.
Burleigh Heads Property Market
If you're considering property investing, below are the latest figures for purchasing and renting houses and apartments in Burleigh Heads according to Real Estate.com.au.
Median house sale price
$1,309,000 - 17.9% growth over 12 months
Median unit sale price
$875,000 - 44.3% growth over 12 months
Median house rental price
$850 per week - 25.0% growth over 12 months
Median unit rental price
$600 per week - 13.2% growth over 12 months
3 bed house • $822 per week
4 bed house • $900 per week
1 bed unit • $465 per week
2 bed unit • $592 per week
3 bed unit • $750 per week
Median property prices over the last year range from $1,309,000 for houses to $875,000 for units. If you are looking for an investment property, consider houses in Burleigh Heads rent out for $850 PW with an annual rental yield of 3.2% and units rent for $600 PW with a rental yield of 4.4%. Based on five years of sales, Burleigh Heads has seen a compound growth rate of 17.9% for houses and 44.3% for units.